Simon Says: Happy Birthday to Kelly and Evolna. Wish both of you have a great day.

Two days before my birthday (17th August), I shamelessly organized a small gathering to celebrate my birthday and Jackson's birthday with the foodies in Pick N' Brew. There's two reasons for choosing Pick N' Brew, first is of cost it serves great tasting food, and second is because Jackson is always busy and can't get out from Pick N' Brew. If he can't go out for gathering then the the gathering come to him instead lol.

FBB was the earliest to arrived due to some miscommunication. I arrived after watching Lee Chong Wei won the semi-final for Olympic badminton men single in the center court of 1 Utama New Wing. FBB went out to walk around and only Jackson was there. Had some small takl with him while he's busy on his laptop. The talk is about business too wtf. Not long after that FBB came back. This is the first time meeting him in person after following his blog for so long. We decided to order something to eat first while waiting for the others to come.

FBB ordered assorted bruschetta. He thinks that the bread is a bit too think. I think so too because I have a hard time putting the whole thing in my mouth lol. The taste is good though.

Rating: 3.5/5


Jackson reserved a table for us.
Teckiee
reached half an hour later and brought some snacks for us. Which look and taste like mini dorayaki but is not dorayaki. It comes with red bean and custard fillings. Yummy.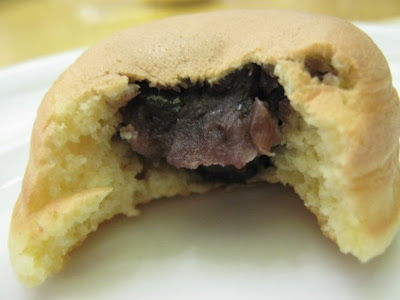 Red bean.
Jason arriving in style.
Jackson ordered Lamb Moussaka. This is what I had the
first time
I visit Pick N' Brew. Still maintaining the quality and taste here.
I had Nasi Kerabu which came with a fried chicken on satay sauce. Marvelous combination there. The only thing I'm curious is why the nasi kerabu is not blue in colour.
Rating: 3.5/5
Next up, Teckiee's Lamb Tikka.
Jason's Chicken Cordon Bleu. I think I'll try this one on the next visit.
FBB's Snaper Crusted with Oats & Muesli. I like the texture of the oats, muesli and the snapper. Slurp, slurp.
This is me taking Teckiee's camera taking Jason's camera taking picture of food. LOL.
As promised, FBB baked his famous Durian Cheesecake and brought there as a birthday cake for me and Jackson. The taste is out of this world. I didn't know that durian can go so well with cheese. Order it from
FBB
if you guys would like to know the taste.
WMW
was able to make it in time to eat the cake with us.
Would like to thank you guys for this nice and happy gathering. Anyone's birthday coming?