I was reading on Kenny Sia's trip to Kota Kinabalu and as I was reading the post near the end there's one particular photo of Pinkpau that caught my eyes. At first I didn't really notice but on the second time I see the photo, I noticed something. Below is the photo that I took notice of.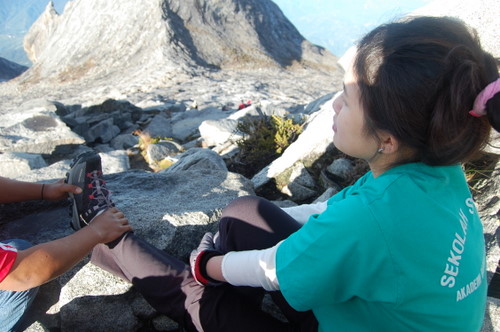 Photo from kennysia.com
No, the thing that I took notice of is not the hand that is massaging Pinkpau's leg. Don't get me wrong, Pinkpau hurt her leg during the trip down from the peak of Mt. Kinabalu so she needs to be treated. What I took notice of is the wording behind Pinkpau's green T-shirt. I know, it's not some catchy word like "Fuck you, you're fat" but a rather mundane wording like "SEKOLA" and the bottom part is "AKA?E".
You can't really make out what the whole T-shirt says. It took me 1 or 2 minutes to realise the full meaning of the word, even those that is not shown in this photo. How did I do that? Easy, I just use Photoshop to flip the photo to see the other side of the T-shirt, if this photo is in 3-D that is. How did I know what was written at the back of the T-shirt? It is because I myself own a same T-shirt but mine was blue in colour. Coincidentally that I bought a T-shirt that is the same design with Pinkpau's? I can bet you RM 100 to find that same T-shirt in any boutique or pasar malam out there and you won't be able to find it. Dont' belive me? Look below, I took a photo of myself wearing the T-shirt I have.
Looks the same as the wording on Pinkpau's T-shirt? The wording of the T-shirt is actually, "Sekolah Sri Garden" at the top and "Akademi Badminton Malaysia" at the bottom. This is a sport house T-shirt of my alma mater, I went to secondary school in Sekolah Sri Garden and I was in Blue House. So, if Pinkpau is wearing a T-shirt with the same design but different colour, there's only 2 conclusion I can make out. First, she borrow the T-shirt from a friend who is also studying or studied in Sri Garden. Second, she herself was studying in Sri Garden at that time and was in Green House.
Yesterday, I have confirmed that the second conclusion is the correct one. I asked her myself in the Youth 08 event yesterday in PWTC. So, I actually was 11 years high school senior of Pinkpau. Ah, according to her, so many thing has changed in Sri Garden. I saw her Form 2 class photo that she posted recently on her blog and found that the prefect's uniform had changed. It's been almost 10 years I didn't go back to Sri Garden for a visit.
So, as the title asked, "Are you a Gardener?", I'm not asking whether you attend to flowers and trees in a garden but rather asking whether you've ever attended Sekolah Sri Garden (according to Pinkpau, it is now only refer as Sri Garden). Do you still have the sports house T-shirt? If yes, please take a photo of it and email me. Also, according to Pinkpau, my senior Alan Goh is planning a allumni gathering, so if you're a Gardener you can leave a comment at Pinkpau's blog. Ah, it's not everyday that you bumped into someone that attended the same secondary school as you in the blogsphere. That's all I want to write folks. See you next time. *tune from Looney Tune ending playing*