that correctly predicted a winning set of number for Magnum 4D. What is meant as a joke when Kenny photoshoped Paul the Octopus predicting the outcome of the top 3 prizes for Magnum 4D turn out to be real for some punters.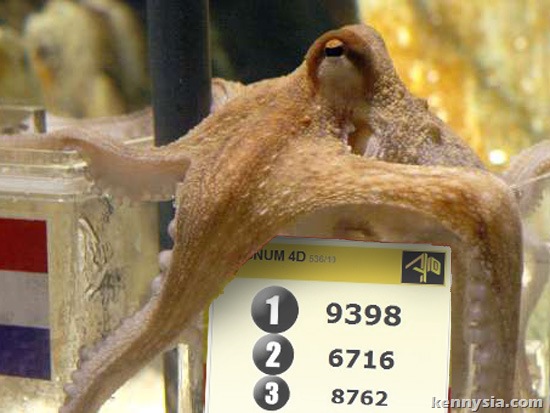 The doctored picture from
KennySia.com
I read the news in today's Oriental Daily News (东方日报), which roughly states that some punters really went and buy the three sets of number put in by Kenny in his doctored picture of Paul the Octopus. Not only that, one set of the number 9398 came out Special Prize in Magnum 4D. Special prize pays 1 to 200, which means buying RM 1 will win you RM 200.
The report from Oriental Daily News
It's a wonder what 4D punters will do when it comes to placing a bet. Even when they clearly knows that the picture is meant as a joke, they will go and put their money on it. Well, turns out their bets did win them something lol. So, Kenny what numbers will come out on the next draw?