Simon Says: Happy Birthday to you Chimp.


Warning: Tidak Ditanggung Halal

I work on swing shift in my job. In a month, I work two weeks morning shift 8am to 8pm and another two weeks night shift 8pm to 8am alternately. Yes, I work 12 hours a day but not 5 days a week. Usually I work from Sunday to Tuesday and alternate Wednesday. So it's like 4 days this week, 3 days the next, and so on.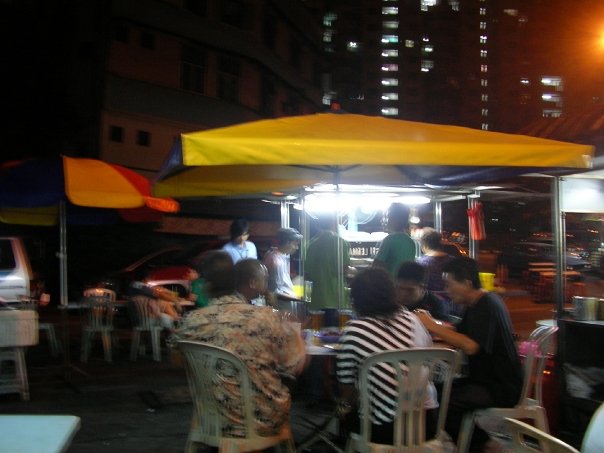 Okay, let's get back to the topic. So on a night shift or some will say graveyard shift, we eat lunch at around 12am to 2 am. So looking for food at this wee hour is one of our usual task because we don't want to everyday eat mamak.
So, this series of posts that I will do is to keep track of the places that me and my colleagues went to for 'lunch' when we're working on graveyard shift. The first one is an overcharged nasi lemak that was sold by a Chinese aunty in the behind the shop lot near the Shell gas station along Jalan Loke Yew.
You get to pick your own condiments and dishes that goes with the nasi lemak. Mind you each of the items has a price. Even the standard hard boiled egg, ikan bilis, sambal and kacang. Yeah, you read it write. You'll be ask whether you want sambal, ikan bilis, kacang or hard boiled egg or not. RM 1 added if you want ikan bilis, another RM 1 added if you want sambal, RM 1 more for kacang and RM 1 for hard boiled egg. So, if you're not fussy about the standard condiments, I advise you not to add any.
My colleague's nasi with curry chicken, luncheon meat, diced long bean, and sambal. I think cost him around RM 8 to RM 9 excluding drink.
Other than the standard condiments, you can choose fried egg, kangkung, chicken curry, kerang (cockle), sotong, diced long beans, sausage, pork curry or luncheon meat. That's a long list of dishes to choose from. I think if you choose all dishes, the nasi lemak might cost about RM 30 ++ lol.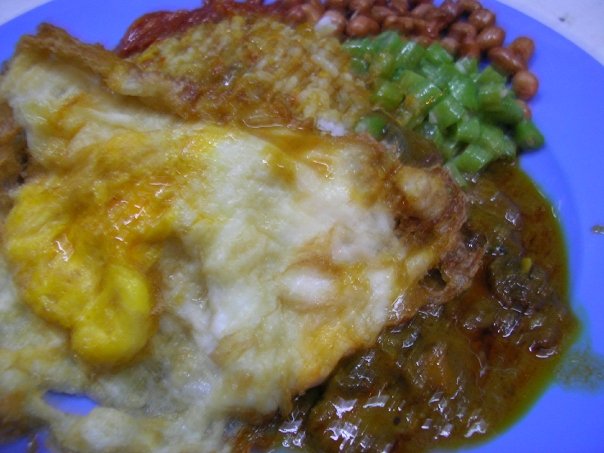 My RM 6.50 nasi with fried egg, kerang, sambal, dice long bean and kacang.
This is what I mean by overcharged nasi lemak. The price shown here is before the fuel price hike to RM 2.70. I think it might be more expensive now. lol. Since the fuel price hike we also seldom eat here already. Well, it's good for a fulfiling meal at late night to keep us up. The taste is not bad but there's better one. Might be the late night factor that's why the aunty charge so high. Unless there's a 100% increase in my salary, if not, aunty might not see us near her stall again.
Address:
Late Night Nasi Lemak Stall behind the shop lot near the Shell gas station along Jalan Loke Yew, in between Jalan San Peng and Jalan Baiduri.
Google Map
here
.